Fine Art Prints & Posters
---
United Arab Republic - Kuwait Airways - Ancient Egyptian Pyramids
Alain Gauthier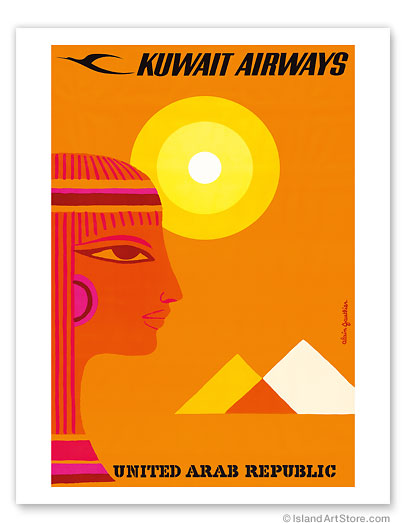 DISPLAYING: 11" x 14" Fine Art Print

ALAIN GAUTHIER (born in 1931)
French illustrator and artist. Gauthier was a poster designer before he began illustrating books. He worked hard for the media and advertising industries but eventually became one of the biggest names in children's literature in the 1980s.
His unmistakable, surrealist style is characterized by ethereal, chalk figures in a mysterious, dreamlike atmosphere of soft, subtle colors and recurring, obsessive symbols, such as masks, mirrors, and felines. Gauthier also brings his unique style to La belle et la b te (Beauty and the Beast, 1988) and Alice au pays des merveilles (Alice in Wonderland, 1991).
Alain Gauthier is a great lover of trains and train stations.
---