Fine Art Prints & Posters
---
February Fiestas in Havana, Cuba - January 30 to February 28, 1937 - Dance, Music, Historical Pageants - Carnival Costumes
Mario Carreño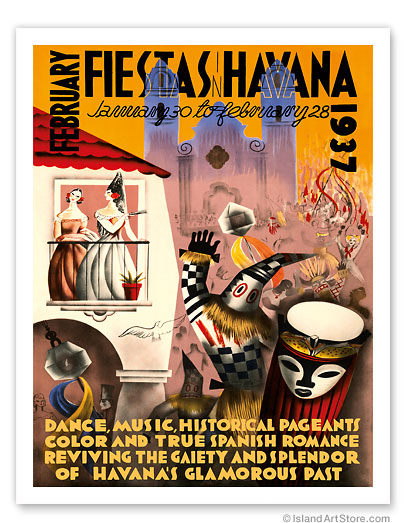 DISPLAYING: 11" x 14" Fine Art Print

MARIO CARREÑO 1913-1999
Carreño was born in Havana, Cuba, in 1913. In 1925, he began his studies in the Academia San Alejandro de Cuba.In Spain, he studied graphic arts, and in France he had lessons with the Domincan painter Jaime Colson.In 1939 he met Pablo Neruda, who invited him to visit Chile.Carreño founded, together with other artists and architects, the Art School of the Universidad Católica de Chile, and in 1969 he was appointed its Subdirector.
That same year he became a Chilean citizen.In 1946, he teaches in The New School for Social Research in the United States, and in the School of Fine Arts in Havana, Cuba.Carreño will maintain his solid friendship with Pablo Neruda until the death of the latter in 1973.In 1982, he received the National Award for Art for his work in the Plastic Arts.Carreño died in Santiago in 1999.
---